Graphic Showbiz, March 13 - March 19, 2008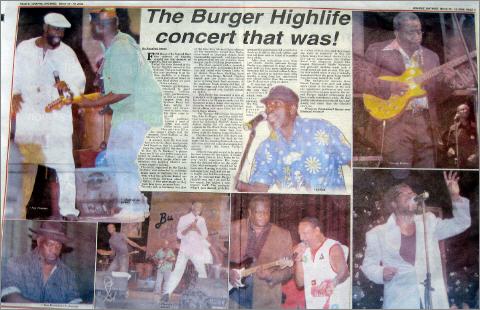 The Burger Highlife concert that was!
By Rosalind Amoh
For those who feared that the advent of hiplife would see the demise of highlife, fear no more.
If what the stars showed at the Burger Highlife concert at the National Theatre last Saturday was anything to go by, then highlife is a firmly-rooted part of our music as our lokal dishes are part of our culture.
Vintage performance enhanced by good singing, exiting stage performance, as well as wonderful support from the Systhm Band left fans asking for more and relunctant to leave when the show came to an end.
The audience wanted a treat of 1980s and early 1990s music and they got their fill at the concert which had the dynamic Fritz Baffour as the master of Ceremony.
It seemed until McGod took his turn at the show, most people had forgotten that he unofficially owes the copyright to the term "Wo Ye Bue, Wo Ye Kenken," a phrase from one of his mid-1980s songs dedicated to mothers, fathers, and all other hardworking people whose contribution was keeping Ghana´s economic engine running.
The event, organised by the Goethe Institut, was intended to celebrate music made in Germay but in the end, what the artistes dished out had nothing German about it. Rather, it was pure magic as they took fans down memory lane.

The only link to Germany was that at the time they released their albums, all the musicians, except Ben Brako, were based in Germany. Again, their businesslike approach and timeliness in presentation are not qualities often seen at made-in Ghana programmes.
The show opened with a masterly performance from keyboardist Bob Fiscian and ended with George Darko in almost three-hour thrilling show that saw Ben Brako, McGod, Charles Amoah and Lee Duodu also taking turns to bring back fond memories to the audience. Each artiste did four of his best songs and tune after tune, the musicians proved why highlife cannot be "killed"........
........It was not only the artistes and the way they performed which was entertaining. The Sythm Band proved they were in a class of their own and they made the show so enjoyable. In this era where many live band shows fail to live up to expectation, the Systhm Band with competent players like bassist Emmanuel "Shobo" Koomson and guitarist Akablay made such a complicated job look so easy. The puzzle was solved when it was eventuelly announced that the great Zapp Mallet was the brain behind the band.
The background dancers from Dance Factory were agile and added extra colour to the show. In the end, the organisers, performers and audience shared a common opinion: the second Burger highlife celebration had been worth everybody´s while. All that quality entertainment should have definitely cost more than the Ghc5.00 entry fee.......