Album "Hi-life agogo"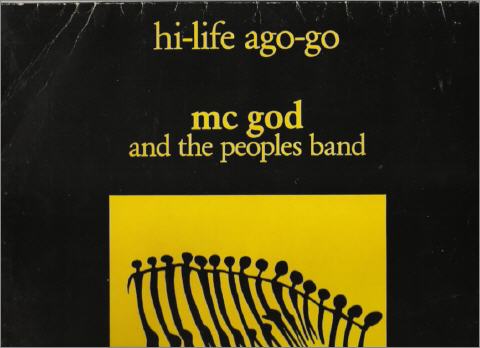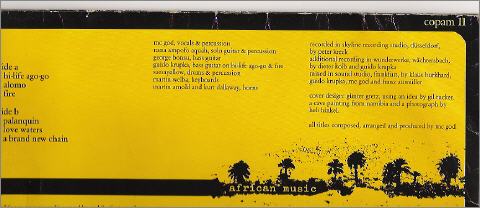 side a
1 hi-life ago-go (Listen to it at: McGod in TV and Radio )
2 alomo
3 fire

side b
1 palanquin
Too big load to carry!
2 love waters
3 a brand new chain
Psychological chain where the brains are connected!

mc god, vocals & percussion
nana ampofo aquah, solo guitar & percussion
george bonsu, bass guitar
guido krupka, bass guitar on hi-life ago-go & fire
saeayellow, drums & percussion
martin welbs, keyboards
martin arbold and kurt dallaway, horns

recorded in skyline recording studio, düsseldorf, by peter kreck
additional recording in wunderwerke, wächtersbach, by dieter kolb and guido krupka
mixed in sound studio, frankfurt, by klaus burkhard, guido krupka, mc god and franz aumüller

cover design: günter gretz, using an idea by gil tucker, a cave painting from namibia and a photgraph by heli hinkel.

all titles composed, arranged and produced by mc god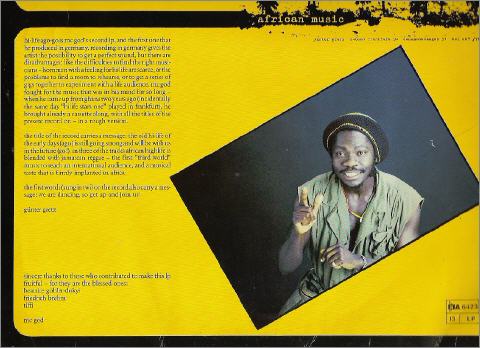 hi-life ago-go is mc god`s second lp, and the first one that he produced in germany. recording in germany gives the artist the possibility to get a perfect sound, but there are disadvantages: like the difficulties to find the right musicians - hornmen with a feeling for hi-life are scare, or the problems to find a room to rehearse, or to get a series of gigs together to experiment with a life audience. mc god fought for the music that was in his mind for so long - when he came up from ghana two years ago (incidentally the same day "hilife stars one" played in frankfurt), he brought already a cassette along, with all the titles of the present record on - in a rough version.

the title of the record carries a mweesage: the old hi-life of the early days (ago) is still going strong and will be with us in the future (go!),. in three of the tracks african highlife is blended with jamaican reggae - the first "third world" music to reach an international audience, and a musical taste is firmly implanted in africa.

the first words (sung in twi) on the record also carry a message: we are dancing, so get up and join us!

günter gretz


sincere thanks to those who contibuted to make this lp fruitful - for they are the blessed ones:
beatrice göhler-dokyi
friedrich brehm
tiffi

mc god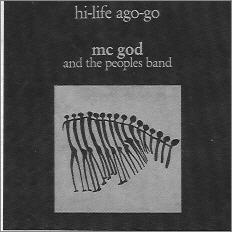 Weekly Spectator Comment 1986:
............
In Ghana we may recall "Si si si" a near hit on his first LP - `Taste Me´ recorded and waxed in Nigeria and later reproduced for distribution in Europe.
His second LP has just been released in Germany on the AFRICAN MUSIC label, owned by Gunter Gretz, one of the very few Europeans whose love for African music has gone beyond appreciation and taken the form of solid investment in recording for the ears of the world.
Titled "HIGHLIFE AGO-GO", this album is an international blockbuster, a hit whose strength lies in its potential ability to make the world sit up and look at itself.
............
The Mirror, March 29th, 1986
Again on his Hi-Life Ago-go album just released on the Copam label, McGOD explains the title of the album thus "the old highlife of the early days (ago) is still going strong and will be with us in the future (go!).
How confident! What McGOD does not say is how far young musicians like him would push the old highlife since his own style follows the trend of "modern" highlife.
The title track HiLife Ago-go carries the mood of the album - we are dancing, so get up and join us. Beautiful guitar and keyboard arrangement make a delightful opener soon to be followed by equally beautiful hornswork from Martin Arnold and Kurt Dalloway.
No doubt, recording in Germany gives the artiste a good possibility to get a perfect sound.
In fact this album was recorded by Peter Kreck, the engineer who did Rex Gyamfi´s most popular "Highlife For You" album. This accounts for the neat sounds that is most obvious on the Alomo track.
Familiar chords characterise Fire, the third highlife number but it is a new thing altogether. Taking off from something akin to "Yaa Amponsah" the song shifts into a fresh composition that deals with the havocs of fire (bushfires?)
McGOD has a very good voice as the album shows. People who saw him perform live in the late 70s when he sang as guest artiste still see him as a good entertainer on stage. The flipside of his album is devoted to reggae music - reggae that is so good that one co
annot help paying attention to.